Blogging is not just a trend anymore, it has become a whole platform in itself. Many successful businesses grow through blogging and the amazing but not so surprising thing about it is that many people have chosen to blog as a full-time career.
Bloggers like John Lee Dumas and Michelle Gardner have proven that there are so many dimensions of blogging that people are likely to oversee.
While the faithful readers appreciate the content of the blog, and quality content takes you places, most people don't realize the efforts that go into producing this quality content.
Not everyone sees the series of failures, the repetitive cycle of fall in confidence, and pushing yourself to carry on and a thousand different mindsets that one goes through while building a successful blog.
Generally, people don't think that a particular type of mindset is required for blogging, and while that is true that there is not one particular type of mindset, there are certain pillars that your mindset should have.
I mean, think to yourself, if you were to start a blog tomorrow, what are the few things you consider the most important to evaluate?
Niche and a website?
Although both of them are equally important for a successful blog what bloggers tend to miss is the fact that like you need a thriving set of thoughts for leading a healthy life, you need a vigorous mindset for your blog as well.
So, finally, it is time to uncover some known but ignored truths.
Significant Pillars to Help You Thrive in Blogging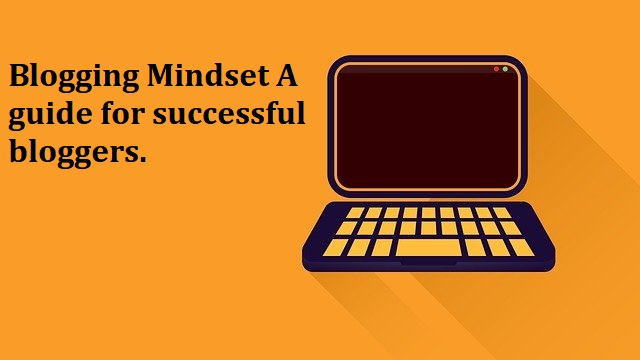 1.Content
The only thing that will keep your blog from falling in a pit is content. In this world of social media and netizens, we like to surround ourselves by content.
We watch movies, read books, listen to songs, scroll through the internet, all of which comes under consuming content and the type of content we let in our lives decides a lot about how we are going to spend our days.
When you start a blog, the very first mindset that you have to shift through is not choosing the niche which will give you the most number of views but the niche you would love to write on because once the ecstasy of increasing the number of views will fade, which will, believe me, you will have to push yourself for tearing your brain apart to derive content.
I'm telling this from my personal experience, if you write something you're passionate about, you'll develop the most interactive content.
The content you create shouldn't be something that a reader scrolls through after reading the first paragraph, you have to grip the attention of the reader from the start to the end of your article.
While there might be blocks sometimes and you might see the quality slipping, what is important is that you strive to do better each time. Just like everything else in life, you get better with creating content.
2. Consistency
Motivation gets you going but discipline gets you growing. Once you have decided to continue blogging, you have got to commit to it no matter what.
Even if you have maintained a good set of readers on your blog for 5-6 months, you cannot risk everything by decreasing the engagement on your blog.
Many people post a lot of articles in the first few months but then the discipline in their work keeps drifting which leads to losing a lot of readers.
If you get suddenly inactive on your blog and your content suffers through irregularity, the readers will shift to new blogs and not many come back.
If you've started a new blog and you are afraid of views, you cannot expect it to grow. Perseverance is always the key. The only thing you need to focus is on the consistency and quality of your content.
If you start a new thing, you have to accept that failures will be ready to push you down. The rejections will try to knock you off and keep you on the ground but you have to keep moving.
It doesn't matter by which speed, it doesn't matter on which path, you have to be on your toes all the time and be ready for whatever comes in your way.
3. Hard Work is The Key to Success
Cliché, but true. No matter what we do or what we think, hard work will always be the biggest mountain we have got to climb and never stop moving forward.
Blogging isn't a piece of cake, working hard comes with the invisible list of things you have to keep in mind before starting a blog. Full-time bloggers work day and night to meet their respective target of blogs in a week.
The mindset of working hard is the most important mindset we've covered so far. Even when you are feeling a little low, even when you don't feel like writing, you have to work hard until your brain pours out the most magnificent piece of work you've ever written.
Working hard is not only about what you are writing, because that is what generally people think. The design of your blog also covers a major part of the number of viewers you get.
No matter how much we try, we've always been inclined towards the looks of a thing. We often let our brain trick us into judging a book by its cover and a web page by its design.
Many people have a mindset that the front view of your website doesn't matter as long as the content in it is worthy of a read. But not designing your blog even after you have your own domain is just an act of indolence and if that isn't the biggest foe of hard work, I don't know what is.
·4. Complain Less and Don't Give Up
When we get to know our way around blogging, we often end up complaining a lot. We continuously complain to ourselves about how we aren't getting more views and how we are never going to make money through blogging.
About the money thing, although it is very prominent that bloggers earn money through their blogs but if you start your blog with the intention of earning money, you're on a very erroneous path.
You can plan to earn money in the later stages of your blogging but your goal is to create the content through your amazing penmanship. You have to prove to the readers that their sticking around will be worthy.
Everybody is worried about the views they are getting on their page but if you are anxious of it from the start, you'll be more and more inclined towards giving up and did you come this far to come only this far?
Once you learn how to pay less attention towards the complaints you can form and spend your time focusing on the brighter side, your blog will grow in the best way.
5. Mindset Being an Amateur
When you are a beginner, your mindset matters the most. How you develop your thoughts, how you'll deal with the things at the start will decide the manner you deal with things in the later phases of your blogging.
When people start learning to maintain a blog, they tend to pay a lot of attention to SEO. However, SEO targeting is great to increase the reaching ability to your blog but sometimes using a lot of search engine optimization keywords leads to meaningless sentences and overuse of the same words.
Some brands don't care about the engagement on the blogs, they let you display ads so you have to take care that you don't exhibit too many advertisements on your website as it may lead to distract the readers from the key content of your blog.
Dealing with the lack of confidence in the start is a very difficult phase that every blogger has to go through.
Not getting the expected amount of engagement on your page can make you think that you are not going to make it, but if you think of it practically, if every successful blogger would have dropped blogging due to the thought of not making something out of it, we would have been living in a world with no concept of mindset building for a blog.
When you select your niche and make up your mind to start blogging, you have to keep this in mind that content will get you through everything.
So before you actually start posting articles, make sure you have enough content or at least enough ideas for building up content so that you don't hit a block during the developmental phase of your blog.
Final Takeaways
A lot of people underestimate the efforts that a blogger put into his/her work. It appears cool that you work on your own schedule and make money, but the own schedule of successful bloggers revolves so much around their blogs and creating content for their blogs.
It's a lot of hustle and one has to be prepared for it and also change your mindset around certain things regarding blogging.
Only a person who is trying their best to maintain a blog can understand the significance of building a healthy mindset before keeping their foot in the enormous land of blogs and do their best to survive through it.