Blogging is the most productive thing that anyone can do online. A successful career and life are completely based upon the purpose you chase. The purpose should be to discover more knowledge and information – embrace it and share it.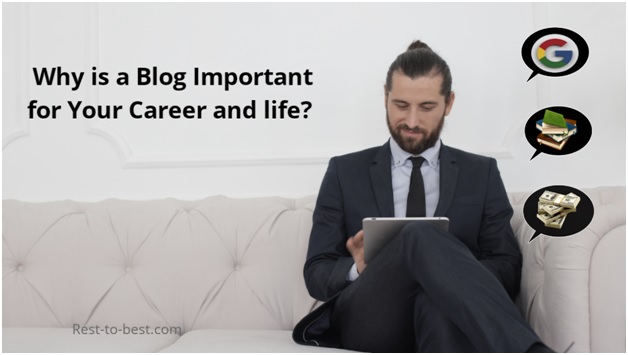 Blogging was first started as an online personal weblog. That'd be used by the people to record details about their day. Later, many entrepreneurs and marketers saw a marketing potential in a weblog. That's why the weblogging began to be used for the purpose of marketing with an updated version called 'blog'.
If you're seeking out the ways to start your online marketing. For that, first of all, you should go through Why a Blog is Important for your career and life? The questions might arise in your mind.
Is blogging really useful?
Will blogging really worth your time, efforts, and frustration?
Hello Guys, I'm Raksha Kumawat, founder of Rest to Best.com. Being a blogger with a self and business improvement niche, I'm here to elaborate on the importance of a blog for your marketing efforts, and how it can be a crucial business development tool. So, let's continue…
What does a Blog do?
No doubt, the importance of a blog is tremendously huge on the Internet today. For business, career, and life, it has become the booster for every industry.
A blog connects similar thinkers and communities of people worldwide as it helps teachers to connect with their students, business owners to engage with customers, journalists to share the news with their fans and politicians to connect with citizens.
A blog is the most important factor to get more website traffic from search engines like Google, Bing, and Yahoo.
It helps students to explore and innovate a new solution to the old problem.
It helps search engine users to find precise and effective knowledge and information.
It helps individuals and companies to earn passive income online.
Importance of a Blog in Education
Everything has two faces, both positive and negative. It's totally up to us how we use it. Earlier, students were kept away from the online world and internet with a consideration that it'd divert their minds from studies. But instead of wasting their precious time randomly on social media, they must utilize it by learning innovative things on blogs.
Blog plays a vital role in education as it connects teachers and students on both personal and broad level. Personally, it can be used by teachers to share the class topics and notes before and after taking a class.
The importance is even broader as a blog enables teachers to connect with a wider community of students and can provide insightful knowledge and information to the students who are unable to present in the class physically.
Today this fact needs no proof as the maximum number of students are attending class and gaining knowledge remotely online in the corona crises.
Students are connecting with the internet all over the world today. They search for productive and innovative information about class topics, essays, and assignments on the internet.
It's a great opportunity for academic and technical education providers to align students with career-oriented education through their blog.
Today many small and big institutes and training centers are able to drive large numbers of admissions through the blog for their value providing courses and programs.
Importance of a Blog in Business
Content builds relationships. Relationships are built on trust. Trust drives revenue. — Andrew Davis
A blog is so important in business to engage with customers on a broad level. Blogging builds a long-lasting relationship and a loyal customer base with an inbound marketing method.
Today, almost everyone is on social media. And a business automatically magnetized towards a potential customer base. A blog works miraculously for a business to get the attention of super-busy social media people.
It can be tough for small business owners to position and market their brand on the internet but blogging can. Through it, you'll not only position your brand strongly on the internet but also can increase sales.
Though the business is not only the game of selling products and services but also to provide a unique experience to the customers. Customers are like newbies, they are exhausted and confused, need the right guidance with a handsome approach.
For example,
Listing the products or services on the website is not that enough. You need to understand their troubles, pains, problems, and emotions.
Through a blog, you can help them to choose the best by sharing product experiences, reviews, and listings.
Educate them about unique solutions and their benefits.
Provide information with facts and figures.
Importance of a Blog for Freelancers
Freelancers work hard for clients and to get further consistent work. They are the most hard-working community on the internet today.
If you're a freelancer, you can write posts on a personal blog or as a guest blogger relevant to your knowledge, skills, and expertise.
You can write blogs regarding problem-oriented solutions and services. Your targeted audience can be the clients you wanna work with.
For example,
People search on Google for graphic design then your blog website should be there in the search results.
If you're a freelance graphic designer, your blog can be about – Importance of graphic designing, how you can learn, what is its market value, review some courses and its pros and cons.
At the same time, you can recommend and promote your own graphic designing services, courses, or tools.
For freelancers, a blog is a door that someone can knock.
Being on a blog is the symbol of seriousness about your business which works as a fascination for the customers, and they'll hire you on a handsome payment. Now you no need to bid for projects. You just have to update and manage your blog consistently.
Blog as an Online Passive Income Stream
Another most important benefit of having a blog is to monetize your blog with Google AdSense, Sponsored Posts, Direct Advertising, Affiliate products, Facebook Audience Network and many more to say. That's how you can earn passive income independently.
Blogging can be termed both as the best substitute or supporter of freelancing. In freelancing there is uncertainty and you have to pay a commission for your works. So it's better to get clients directly from your website along with generating passive income.
Blogging hasn't any copyright by the people of the IT sector. It's a passive income stream from which everyone can earn money online through a blog. Even housewives and people with a 9-5 job can also generate extra income through it.
So, if you're looking to start a blog – just do it, don't focus on easy or tough. Do it with interest and consistency. Everything will automatically come to you at the right time.
Importance of a Blog for SEO
If you wanna promote your own products and services or some affiliate programs globally, you must need a blog to get them rank higher on google search results.
Blogging is an important SEO practice because when you write variant keywords and create key phrases with keywords then search engines will rank the website higher in the search results.
You can also build relevant link structures inside the post. For example, If you write about 'How to Learn Guitar', along with it, you can link it to the Amazon Affiliate post of 'Best Guitar to be Bought Under Considerable Price'.
So, when you'll be able to gain the trust of your readers by teaching them 'How to Learn Guitar', they'll happily buy your trustworthy products too.
SEO is even more helpful when you frequently update your website and post valuable articles for your targeted readers, audience, or clients then conversion rate will be higher too.