Making a video with music and caption text can certainly be a great solution to show your shots to other people in a different and captivating way. What did you say? Not sure how to make a video with music and caption text?  To be honest, there are a lot of online services thanks to which it is possible to create videos with music and text directly and comfortably from the browser.
I am here ready to recommend an easy-to-use video editing tool you need to be able to make videos online. Yes. It is FlexClip, which is extremely easy to use tool that allows you to manage more photos, videos and audio tracks at the same Time.
Register with the email address
Each registered user receives a personal account where they can store their saved projects, which they can continue to edit or download it to a PC.
Add your own files
As a rule, the user already has a set of files that he will use to create. They are loaded by pressing the "storyboard" and choose to add photo, video or background. A new page will open, where you can upload the files of pictures, video from your PC. The site supports all popular formats, so it is very likely that you will not need to convert beforehand. The FlexClip developers also provide the user with their own photo, video and audio gallery so that they can insert an appropriate element to their project at any clips of the video.
Customize your video
In the first tab, you are prompted to rotate, trim, split videos by simply dragging and dropping.  And then you can insert caption text to help audiences understand your video content. It is available to choose from a variety of text animations that are pre-made with the perfect typography. For the text entry field, It is possible to customize the font type, its color and the inclusion of a bold, italic typeface. FlexClip also gives users the possibilities to record voice over. Besides, FlexClip also provides several blanks of different styles. After selecting the necessary, drag its timeline, placing it over the frame where the inscription is necessary.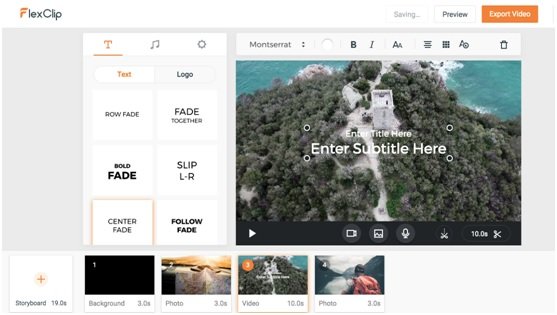 Save and download the video
At last, it is available to go to the left sidebar and specify, using the related setting menu, the aspect ratio you want to apply to the movie ( 1: 1, 9: 16, 16: 9 ). At the end of the operation, click on the Download button to download the video on your PC. It is available to export the video in 480p, 720p or 1080p without watermark. If you think it is necessary, you can also make further changes to the video by clicking on the "my project" button.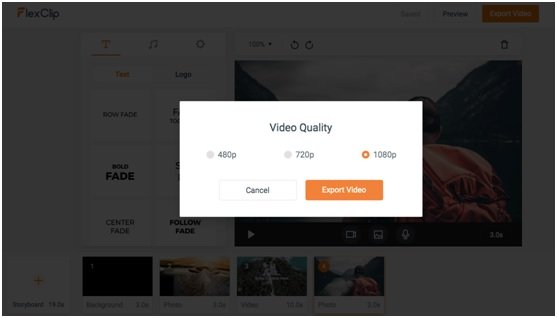 Advantages
Convenient and intuitive interface;
Easy and quick to mount video of varying complexity;
Built-in video and audio library;
Support popular file formats for download;
download a full 1080p HD quality video for free.
Disadvantages
Video effects and transitions are not available.
Conclusion
FlexClip is a pleasant and simple service for creating videos, presentations, slideshows for educational, entertainment and work purposes. The user, having no experience in this area, can easily create a high-quality video series with music and text accompaniment. The site is primarily aimed at simple editing, so for large-scale projects it is unlikely to work. But it can easily cope with video of medium complexity.