How to Start a Blog? This is a common question among newbies who want to start their own blog. Starting a blog is the latest fad among internet users, and every other guy wants to launch the next multi-figure earning blog.
However, the one thing they don't understand is – a blog is like a real job.
It takes some investment, seriousness, and a lot of hard work to achieve something meaningful.
But, not everyone is ready to invest in starting a blog. There are relatively good options available to those who want to test the waters before making any investment. But I always recommend you do not use free option as it won't help you much.
If you want to start a blog and make money from it, then this guide is JUST for you.
In this tutorial, I am sharing everything you need to know about starting a blog, pros, and cons, and if it's possible to make money from it.
Let's get started.
Why Start a Blog?
A  Blog gives you a way to connect with people on the internet and share your views. You can also express your thoughts and unique ideas.
It can be used as a diary where you share your daily happenings or keep track of something you want to achieve.
How to Start a Blog?
Well, Starting a blog does not require technical knowledge. In this technology-driven world, everything is just a clickaway. To start a blog and make it successful you need to keep few things in your mind.
Choose your Niche carefully
This is the major issue among the newbies. They rush for the money but the money relies on your passion. Identifying and choosing a niche is very important.
A Niche can be anything. Just follow your passion. Choose something which you are passionate about. This will help you to deliver quality and informative content to your readers.
Choose a Domain Name
Before starting a blog, choose your domain name carefully. Your domain name must be short, punchy, and easy to remember. You can use third-party tools to generate a blog name. Some of them are:
To register your domain name, I highly recommend you to use Namecheap. It is one of the best and reliable places to register your domain name. Pricing is also good and the support team is very helpful.
Pro Tip:- Don't register your domain name and hosting with the same company. It will help you to easily transfer your website without any issue.
Find your Ideal Web Hosting
Web Hosting is very important to set up your blog and makes it successful. There are plenty of web hosting companies are out there. Finding a reliable and good web hosting company is very important to start a blog. Some of the best hosting companies are:
I highly recommend and prefer Siteground for web hosting. I am also using it to host my websites and blog. It is one of the best and reliable web hosting with awesome customer support service and quality web servers.
Click here to sign up with Siteground (get 60% off with annual purchase)
Choose Growbig Plan as it will be a big time and money saver for you. With this plan, you can start and grow your blog without any hassle.
Finalize your payment and you are ready to go with your hosting account. Now you have to install the WordPress on your blog.
P.S. You can also pay them through Paypal and with debit card also. Simply choose your plan and submit the order form without paying it. Now, Chat with their sales team and they will send you a special link to complete the payment as per your choice.
How to Install WordPress?
After Making Payment. Your Siteground account will look like this: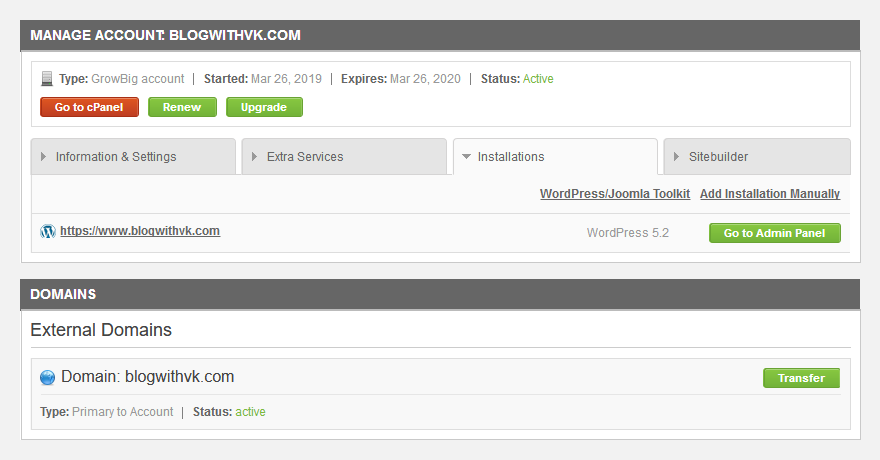 Before you install the WordPress, You have to update your Nameserver if you bought domain from Namecheap and any other registrar. You will find your nameserver details on your siteground account. Make sure, Every users have its own nameserver details. So, make sure you have use correct nameserver assigned to your domain.
You can install WordPress automatically using Softaculous. You can also install it manually. Using Softaculous You have to select the few options and insert the name and login details of your blog and it will automatically install the WordPress on your blog.
If you install the WordPress manually then you have to create a database and also have to create a user for it. Assign the user to the database you have created. Run the setup, insert the database details and you are all set up. Your blog is ready.
If you are a newbie then I highly recommend you to use softaculous to install WordPress.
Install Necessary Plugins
I love the flexibility of WordPress. Plethora of plugins an help you to create almost any type of website. However, There are some essential plugins that need to be in your WordPress Arsenal. Some of them are as follows:
Yoast SEO:-  Yoast Seo is one the best SEO Plugin for WordPress. It will optimize your blog posts and help them to rank better in search engines. I am also using it on this blog. You can create Sitemap and set up your Meta Tags easily with Yoast. We have also created an exclusive list of SEO Plugins that you can use on your WordPress Blog.
WPForms:- Forms are integral part of your blog and help your readers to communicate with you in a professional Manner. WPForms help you to create professionally designed forms for your blog. You can create any type of forms like Contact us forms, Survey forms, Order forms, and many other forms. It also comes with Drag and Drop form builder. You can also use their predefined form themes.
Jetpack:- Jetpack is a comprehensive collections of many plugins in a one plugin. It comes with many extensive features like subscription forms, Comments, Sitemap, Live traffic stats, Social Share, and much more. It will drastically reduce the requirements of other plugins as it can save your time and resources as well.
Thirsty Affiliates:– If you are doing affiliate marketing on your blog then cloaking your affiliate links can help you to incraese your affiliate commission. It will cloak your ugly looking affiliate links in a friendly manner. You can use various settings to make your affiliate links looks more SEO Friendly.
Grow your Blog
Now when you have already set up your blog, You have to work on the design and look of your blog. I always prefer you to use premium WordPress themes like Genesis (Get Free with WPEngine), Mythemeshop, Themeforest, etc.
Premium themes work far better than the free one and come with premium support.
Add some important pages to your blog like About me, Privacy Policy, Disclaimer, Contact us, etc.
Start writing more and more informative posts on your blog. Creating pillar content helps you to grow your blog and bring traffic to your blog. You can also use The PEN Framework technique to write a blog post.
Create Email List
Email Lists are a gold mine for your blog. You must have to create email lists from the beginning of your blog. You can sign up for Getresponse to create email lists for your blog. It is one of the best and reliable email marketing tool.
Optimize your blog
To optimize and speed up your blog. I highly recommend using CDN services like Cloudflare and Stackpath (Formerly Known as MaxCDN). Click here to learn more about how to optimize your blog.
How to Make Money from A Blog
Once you've established a good amount of traffic to your blog, you can put ads on your site and earn some money. Remember, without traffic; it won't be possible to make any significant amount of revenue.
There are various ways you can monetize your blog, including –
1. Contextual Advertising
It is the most commonly accepted way to earn money from a free website. In this type of monetization, you use an ad network and place codes on your blog.
The network will automatically show the most suitable ads based on the reader's interest. The revenue is usually calculated on CPM (cost per thousand impressions) or CPC (cost per click) basis.
The major contextual ad networks are –
2. Pop-Up/Pop-Under Ads
If you have a website in music, movies, and other entertainment niches, then PopUp and PopUnder ads will work perfectly for you.
Instead of showing ads on the website layout, these ads will pop up on the screen or pop under the screen when a user clicks on the site.
They are often annoying to readers but makes a good amount of money. If you have a personal blog and want to have a loyal reader base, then this type of monetization is not fit for you.
Popular PopUp & PopUnder Ad Networks are –
Propeller Ads
AdSterra
ClickAdu
3. Link Shortening
If your website shares contents from other websites and include a link back to those sites then Link Shortening might do wonders for you.
The process is simple, you shorten links and share on your site. Your readers click on it and are redirected to the website with few seconds to visit. The payment is calculated based on 1000 visits.
It is a good option for software sharing websites.
Popular Link Shortening Services are –
4. Affiliate Marketing
And the better choice to earn a sufficient amount of money is Affiliate Marketing. It works great with self-hosted blogs but may work with free websites as well.
In Affiliate Marketing, you share links to products (with your unique ID attached), and when a user makes a purchase, you earn a fixed commission.
There is a blogger like Pat Flynn who generates more than $1ooK every month with Affiliate Marketing.
Well-Known Affiliate Marketing networks are –
Amazon
ClickBank
Commission Junction
Web Hosting Services
There are more ways you can earn money like CPA, textual advertising, selling ad spaces, etc. but the ways above are the most profitable ones for a free blog.
Final Words
Anyone can earn money online and having a blog makes the process a lot easier. You can get started with a blog in less than 5 minutes and earn money from it.
I hope this tutorial will motivate you to take action and you won't hold back yourself due to the investment issues.
Feel free to ask questions and share your views about starting a Blog.