Getting tired of deleting unwanted spam emails? Did you have subscribed from lots of site to get the latest newsletter and hate the process of unsubscribing from your subscribed sites one by one?
You can also use fake email address generator websites to get rid of spam emails.
Well, thanks to unroll me to come out to solve this problem.
It will unsubscribe you from these unwanted spam emails just with one mouse click and keep your jammed inbox clean. It will manage your inbox from the loads of unwanted emails and put them into a single email, then send them to your inbox, any specific time you personally specify.
If you do not want to unsubscribe from your favorite or important site completely, so you can temporary unsubscribes by unroll me roll up option.
After rollup, you will still receive your subscribed newsletter emails but they will place away from your inbox. Any time, you can easily remove UN-subscribed items from the rollup to get them straight to your inbox.
Unroll me giving two choices: one,leave the remaining subscriptions, as they are (temporary UN-subscribe) and two, add them to a list called Roll-up. This Rollup will mass your subscribed site emails together and send you at any specific delivery time (morning, afternoon, or evening).
Unroll me currently running as an invitation English beta version, so at this time they are proving only Gmail, Yahoo, and AOL email client services. However, they are still working on support other email client; you might not have to wait so long, if you are any other email client user.
 What do I have to do to use Unroll me?
Currently Unroll me totally free to use. It is giving free service to all supported email clients but at this moment, unroll me only support Gmail and Google apps accounts to test beta version. Therefore, if you are the Yahoo or AOL email users, you may have to wait until you get an invitation from unroll me. If you do not know how to get an invitation from unroll me, you can leave a comment in the comment section below then we will send you an invitation as soon as possible.
 Does Unroll me safe to use?
Absolutely, unroll me safe to use. It does not have to steal or stored your information but takes your contacts to spread their service by "share via email" feature. They are going to add Oath supports in the near future that never have to request any of your login information, period.
 Getting Started with Unroll.me
Unroll me may be the magic cleaner you need to clean up your inbox. Just with few clicks it will save your inbox from the hundreds of newsletter you were subscribed. It is very helpful for that person who feels boring to click on un-subscription one by one.
 How to Connect Gmail Account Via Unroll. me
First goes to Unroll.me official website and select your email client name as Gmail from the arrow button, and click on Continue red button.
Now it will ask to log in, if you are not already signed in your Gmail account.
Then unroll me will request you to allow your Gmail account. Simply click on Allow button. (If you already signed in multiple Gmail account, a third party service will ask you to select your Gmail account. Simply choose the email that you want use by unroll me, and click on "accept".)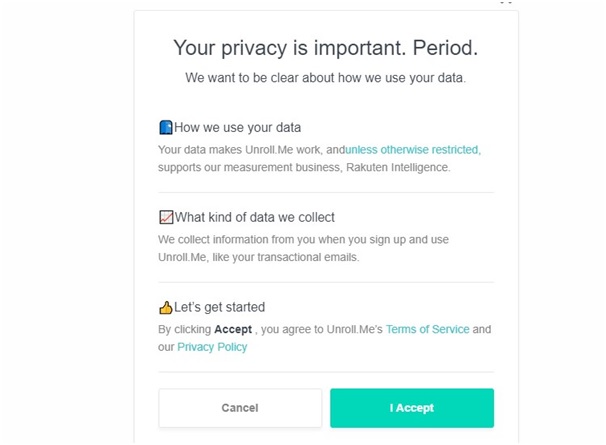 Now you will turn to a new page, where your subscription list is.
Click on the "unsubscribe" button in front of the item to permanently unsubscribe. Click on the "add to Rollup" button to add roll up, if do not want to unsubscribe but want to clean inbox. (You can change these unsubscribed items anytime from the unsubscribed folder, by click on + Add to rollup or Return to inbox)
If you have added, some of subscribers items into your rollup. Therefore look at the top; you will see a "Delivery Time" menu. Choose any specific period (morning, afternoon or evening), that when you want to get your roll up subscribed items emails together in your inbox.
That's it, Now you will receive your rollup items emails within a single mail from unroll me at the specific period you've selected in earlier step. Other temporary unsubscribe items will tucked by unroll me until you changes the settings. Unroll me is very easy to use and hope these above guides will help you a lot. For know more about Unroll. me you can visit unroll me FAQ page.
Conclusion:
Leave a comment in the comment section below, that what you think about unroll me and is it helpful for you or not. If you did not get the Unroll me invitations, so give us your email address inside your comment and we will try to send you the invitation as soon possible.