OptinMonster is one of the best solutions for capturing leads and increase conversions of your blog. In this post, we are going to tell you more about their new feature called Mobile Exit-Intent. You will also learn how to get started with Mobile Exit-Intent on OptinMonster.
OptinMonster's exit-intent popups work on WordPress, Shopify, Magento, BigCommerce, Drupal, Joomla, and literally on all types of websites.
Before we jump into the details let's check a quick intro about OptinMonster and about its features.
What is OptinMonster?
OptinMonster is a powerful and robust lead generation tool that helps you to catch leads on your website and increase conversion. The company is founded in 2013. Since its inception, it has powered millions of websites and blogs to overcome the challenges that they face increasing conversions. Click Here to Sign up With OptinMonster and Save 30% off
Features of OptinMonster
It comes with some decent and very powerful features that help you to skyrocket your business hassle-free. Let's check out some of their features.
1. Drag and Drop builder
Their powerful drag and drop builder helps you create professional-looking landing pages. Simply drag the required element from the gallery and customize it as per your needs. No coding or technical knowledge required.
2. Campaign Types
You can choose the perfect campaign type to display the most attention-grabbing offers to your visitors for maximum engagement. You can integrate it as pop-up forms, Display it in Sidebars, Floating bars, etc.
3. Campaign Triggers
Simply detect your visitors' behavior by using smart Campaign triggers that always display the right campaign to the right person at the right time.
If you are doing ecommerce business then it definitely helps you solve the issues like shopping cart abandonment.
4. Targeted Campaigns
You can precisely targeting your audience by create campaigns that generate more leads, attract more subscribers, and make more sales. You can customize your campaigns based on the page or section of your website.
Easily create on-site drip campaigns triggered by visitor interactions and also GEO target your users.
5. Easy Integration
You can simply and seamlessly integrate OptinMonster with 3rd party tools like Mailchimp, Drip, Aweber, WordPress, etc. You can group your subscribers based on interests for marketing automation.
These are some of the features that OptinMonster provides you to get started and increase conversions on your blog.
Now come to it's one of the best and popular features called Exit-Intent features that help you to engage the visitors who want to leave your website. They have also launched their new features called Mobile Exit-Intent. To understand this better, let's check out
What is Exit-Intent?
Exit-intent® technology is a user behavioral technology that tracks and monitors movements of website visitors and detects when they're going to leave your site without making a purchase or leaving without any interaction. It is basically designed to reduce cart abandonment and capture more leads.
How to Get Started with Mobile Exit-Intent on OptinMonster?
Mobile exit-intent technology gives you an edge to bring in more sales and subscribers from your site and helps you compete with your competitors. Since the growing number of users on mobile devices has shifted the focus of businesses to them. So, to compete better you need to use the Mobile Exit-Intent feature.
Click here to Get 30% off on All OptinMonster Plan.
So, how does it work?
Triggering Exit-Intent on Mobile Devices
Mobile exit-intent has been designed by keeping mobile user behavior in mind. It shows When a user scroll back up mobile pages as a gesture to bring down the address bar. Or, they simply tap on the back button.
Similarly, you can use OptinMonster's mobile exit-intent will capture them.
Scroll Up Trigger
Mobile visitors who have visited your site and start scrolling back up on your pages are an indication that they're no longer engaged with the content on that page. This is a great opportunity to give these visitors a reason to stick around.
Mobile exit-intent triggered by scroll up is activated when you add exit-intent to your mobile campaign and choose an Exit Intent® Sensitivity of either Low or Medium.
Mobile Exit-Intent in Action
Are ready to see what mobile exit-intent looks like in action? Here's an example: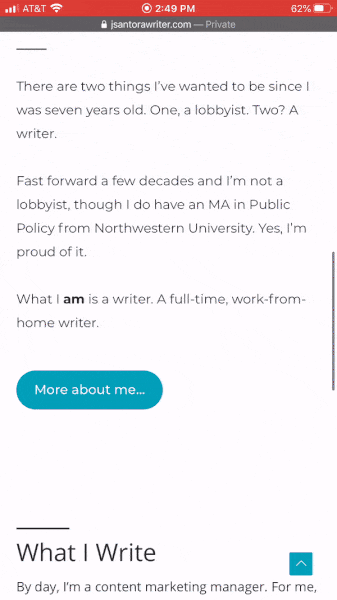 Over to you
Mobile Exit-Intent is an awesome feature to boost your conversions and leads. I can say that this is a great feature addition to OptinMonster and will benefit many small business owners and bloggers. I highly recommend you give it a try.